Where is Azumino City?
Azumino is located in Nagano Prefecture, set among the stunning Northern Alps of Honshu, the main island of Japan. Azumino enjoys a central location in Honshu and is easily accessed within a 3-hour train journey from both Tokyo and Nagoya. The area of Azumino itself is sandwiched between the neighboring towns of Matsumoto, a historical city famed for its Tokugawa period castle, and Hakuba, a world-class ski resort made famous by the 1998 Nagano Winter Olympic Games.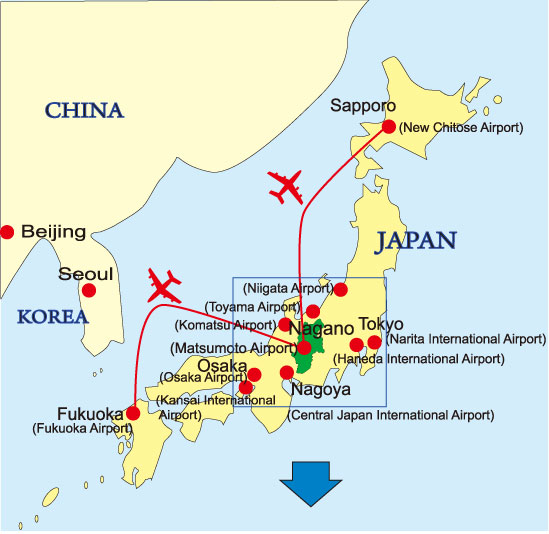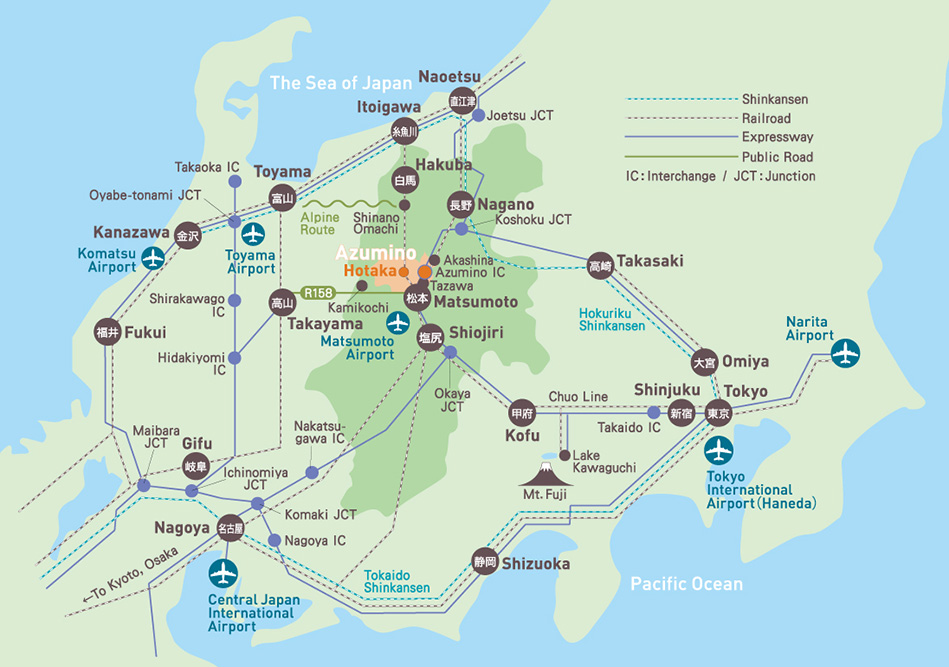 Temperature and Rainfall
The temperature and rainfall of Azumino are similar to Matsumoto. See here.
Transport to Azumino by Train
From Tokyo
Train schedule:
Limited Express 'Azusa' and 'Super Azusa' trains run daily from Shinjuku JR Station to Matsumoto JR Station from 07:00 to 21:00 on an almost hourly basis, with a once-daily service running directly to and from Hakuba JR Station*. By limited express train, the journey time between Shinjuku and Matsumoto is about 2 hours and 40 minutes.
JR Timetables
In regard to accessing the Azumino area from Matsumoto Station, local trains run on an almost hourly basis from the Oito Line, with services to Hotaka Station typically taking around 30 minutes**.
From Osaka and Nagoya
The 'Tokaido' Shinkansen (bullet train) is an hour-long journey that runs from Osaka JR Station to Nagoya JR Station. From Nagoya JR Station, take the 'Chuo-saisen' (Central west line) limited express 'Shinano' train that is bound for Nagano via Matsumoto.
At Matsumoto, transfer to the Oito Line for access to the Azumino area, as described above. The limited express Shinano operates almost every hour from 07:00 to 23:00, two hours from Nagoya and Matsumoto, onward till Hotaka 30 minutes by Oito line.
Timetables
Attention to travel-sick passengers: Please keep in mind that the Chuo-saisen is a little bit winding trail that runs in some valleys.
Please Note:
*The early morning Azusa No.3 train, departing from Chiba JR Station via Shinjuku JR Station, extends its service until Hakuba JR Station, directly stopping by Hotaka Station in Azumino along the way. Occasionally, extra trains operate for this service during special events. Check at ticketing counters for further details.
**Another route to Azumino is to take the Hokuriku Shinkansen (bullet train) to Nagano JR Station, a short hour-long journey from Tokyo (or Ueno) JR Station. It takes about one and a half hours. Visitors can first enjoy visiting Zenkoji Temple before transferring to the Shinonoi Line for trains to Akashina JR Station or Tazawa JR Station. Both of these stations lie in the Azumino area and are within about 1 hour and 15 minutes from Nagano using local trains. A few rapid trains are also available during the day, although this limited service only stops at Akashina JR Station. Taxis may be taken from Akashina and Tazawa for access to the greater Azumino area. The timetable for the aforementioned train services may be found here.
If you have a Japan Rail Pass or a JR East Rail Pass, which are special passes for unlimited rides on JR trains and only foreigners visiting Japan for a short time can purchase them, this route might be convenient.
Azumino is a short train/car journey north from Matsumoto City. For transport information for Matsumoto, see also Matsumoto website.
Transport to Azumino by Road or Expressway Bus
By Road
The Azumino area can be easily accessed by road by taking the Nagano expressway and getting off at the Azumino Interchange (IC), 10 minutes north of the Matsumoto IC. From the Azumino IC, Hotaka Station is a 15-20 minute drive north along Route 147.
Click below to go to Central Nippon Expressway site for tolls of expressways and further information:

By Expressway Bus
From Tokyo
The expressway bus station is located at the south gate of JR Shinjuku Station. About twenty services bound for Matsumoto operate daily from this terminal from 06:05 to 22:25. Tickets for expressway buses are considerably cheaper than those found for train journeys between Shinjuku and Matsumoto, although journey times tend to be longer – typically being a little less than 3 hours and half long, including a 10-minute rest-stop along the way.
An expressway bus bound for Hakuba also operates, stopping off at the Azumino Swiss Village along the way. After getting off at the Swiss Village, please call a taxi.
Click below to go to Alpico Bus site for timetables and further information regarding bus travel:
Alpico Bus timetables
From Osaka and Nagoya
From Umeda bus terminal (near JR Osaka station) three daily services (one of them is night service) are offered to Matsumoto bus terminal.
Matsumoto-Osaka timetables
From Nagoya Meitetsu bus center (adjacent to Nagoya JR Station) eight services to Matsumoto and two to Nagano via Azumino Interchange are offered throughout the day.
Matsumoto-Nagoya timetables

Transport to Azumino by Air
From Matsumoto Airport near Azumino city, you can take air flights to Chitose in Hokkaido and Fukuoka in Kyushu.