Why Bike?
If you want to see the best of Azumino, hopping on a bicycle is the perfect way to see the city and the beautiful scenery that surrounds it. There are options for everyone, from families and casual bikers to sports enthusiasts. You can also go on a guided cycling tour for an even more in-depth look at what Azumino has to offer.
The best way to see Azumino is by bicycle
On a bike, you can go further and see much more than if you were just walking. And, compared to taking taxis or buses, you'll be able to feel the fresh air, make spontaneous discoveries, and get a feel for the countryside. Nothing feels better than gliding through the rice paddies on two wheels with the spectacular Japan Alps as your backdrop!
No matter what your experience level, Azumino is a paradise for cycling!
In Azumino, you can get your fill of the charming Japanese landscape without too many ups and downs. Even when you do encounter a bit of climb, the electric-assist rental bikes (e-bikes) will let you conquer it with no problem (read more about e-bikes in the FAQs)! If you're a cycling enthusiast, you can rent a road or mountain bike and explore further distances or more challenging routes.
Find chances to meet the locals
One of the best things about biking is getting the chance to meet the locals and get a first-hand look at what life is like outside of the big city in Japan. See farmers tending their rice paddies, meet people at small cafes and shops, and if the season is right, you might even encounter a lively, local festival!
Discover fun local shops and hidden sightseeing gems
Cycling makes it easy to explore roads off the beaten path and make spontaneous pit stops. Find historic and cultural landmarks that aren't on the tourist maps like small shrines and temples and dosojin statues (roadside guardian deities for travelers). There are also all kinds of interesting shops to discover including quaint cafes and bakeries, traditional Japanese sweet shops, antique sellers, tea shops, and more.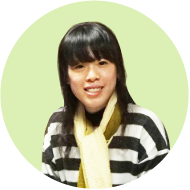 Feeling the crisp air and seeing the crystal-clear water and countryside was wonderful! And with the tour guide, we got to hear a lot of interesting stories.
— Suchin, Taiwan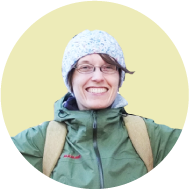 Cycling beneath the big mountains felt amazing! We even got to meet a few locals as we rode around.
— Felice, USA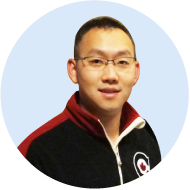 We were able to take it slow and really enjoy the scenery. The foot hot spring was great and riding the e-bikes was fun!
— Kevin, Canada


Convenient, Affordable, and For All Experience Levels
Rent a bike right by Hotaka Station in Azumino
You'll find two shops that rent bikes just a minute from the train station! The tourist information center is also located by the station so you can pick up maps and get suggestions.
Choose the right bike, whether you are a beginner or a cycling enthusiast
Azumino's rental shop have a variety of bicycles available so you can choose one that fits your riding style. The basic bikes have baskets and are easy to ride for anyone. For those who want a little more challenge and adventure, there are also road and mountain bikes available.
E-bikes let you conquer hills and long rides with ease
E-bikes have an electric motor that gives you an extra boost as you pedal. They are great for hills! The power can be easily adjusted with a switch. The motors only operate when you pedal so the bike won't move before you're ready, but do use caution as they can pick up quite a bit of speed.
Optional luggage and bicycle delivery available to your hotel
Want to book a hotel but have heavy bags? No problem! You can request luggage delivery at the rental shop! Or, if you want to go to your hotel first and cycle later, the shop can arrange to have bikes dropped off at your accommodation as well. The rental shops also offer free luggage storage.
How it works
1
Choose a bike that's right for you
2
Get suggestions and maps from the TIC
4
Pay when you return the bike.
Bicycle Rental Shops in Azumino
Hitsujiya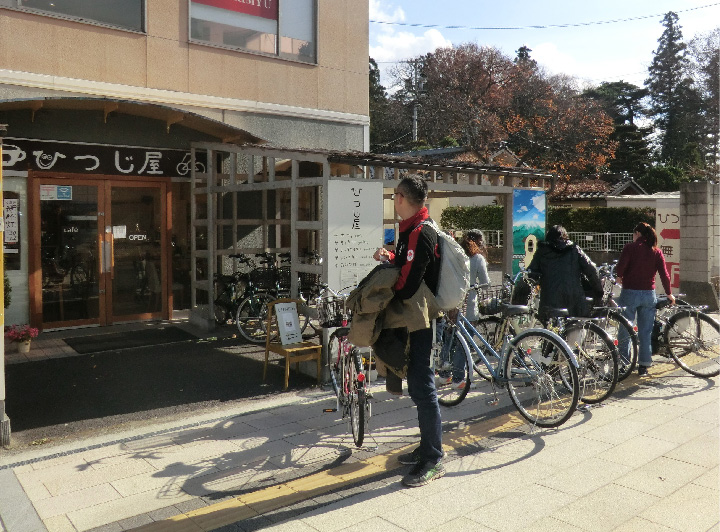 A cafe and rental bike shop directly across from Hotaka Station. They rent e-bikes, kid's bikes, and mountain bikes. Offers free luggage storage and bike delivery for a fee. Rental fee include liability insurance.
Rates: From ¥300/hour for basic bikes, ¥400/hour for e-bikes, and ¥500/hour for mountain bikes.
Hours: 8:30–18:00 (winter 10:00–17:00)
Phone: 0263-82-3888
Shinanoan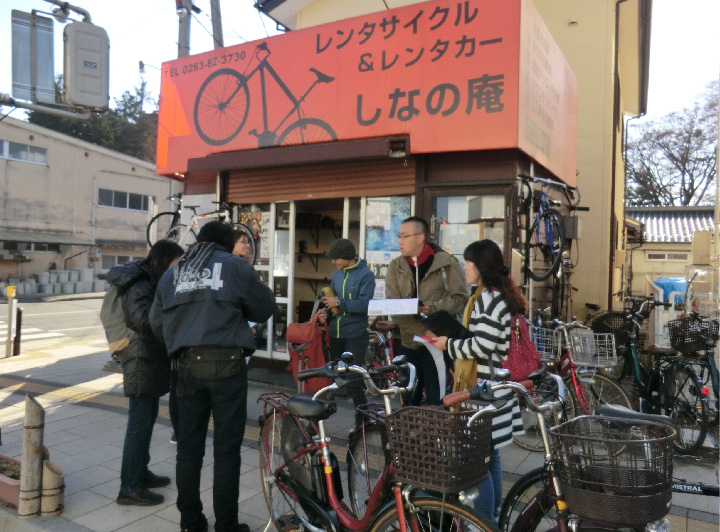 Located just a 2-minute walk down the street from the station. Shinanoan rents e-bikes, kid's bikes, sport bikes, mountain bikes, and tandems. Offers free luggage storage and free bike delivery.
Rates: From ¥200/hour for basic bikes and ¥300/hour for e-bikes & sports bikes
Hours: 8:00 to sunset (Closed from mid-Dec to mid-Mar)
Phone: 0263-82-3730
Other Options
Hire a Guide
Share Cycles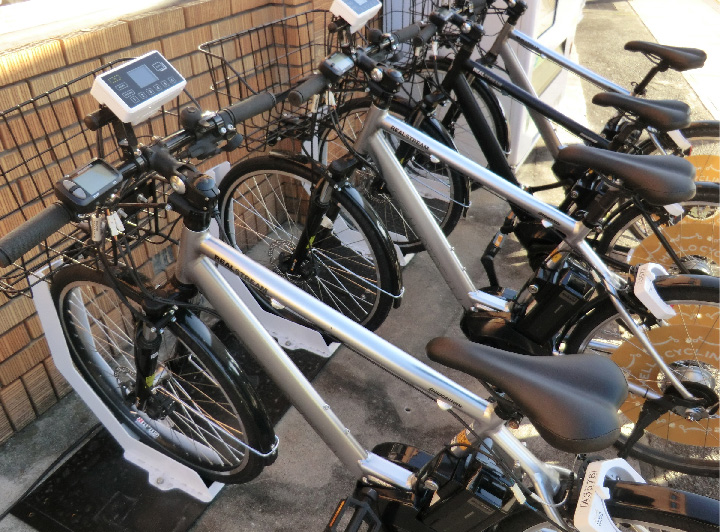 I have never ridden an electric-assist bike (e-bike). What is it like?
Electric-assist motors help you while you are pedaling so that you do need to use as much power yourself. They also make going up hills very easy. This ensures you can enjoy your ride and sightseeing without needing to worry about getting too worn out! Note that e-bikes also allow you to go faster than regular bikes, so be careful on rough parts of the road and when you need to share the road with cars or pedestrians.
When you rent your bike, the shop keeper will explain how to use the gears, brakes, and electric-assist motor.
What is the best season for cycling in Azumino?
Spring and autumn are the most comfortable temperature-wise and you will find some of the best scenery during these seasons: In the spring, you can see the cherry blossoms blooming with the snowy Japan Alps in the background (April) and freshly planted, green rice paddies filled with water (May). In autumn (Oct–early Nov), the rice paddies turn golden as it nears harvest time and the fall foliage paints the landscape. Summer is the "greenest" season and a great time to visit if you also want to do some hiking in the mountains, but it gets very hot during the day. If you bundle up, cycling in winter is definitely possible and the best season for enjoying the hot springs and views of the snow-covered mountains! However, the roads are often slippery, so use extra caution.
What should I wear?
The temperatures in spring and autumn are mild during the day but it gets chilly in the morning and evening, so make sure you dress in layers that you can easily adjust. The summer temperatures get very hot during the day, but you will want to have a light jacket for the mornings and evenings. If you plan to cycle in winter, make sure dress warmly and have a wind-proof outer layer. We also recommend adjustable and breathable layers so that sweat can escape as your body warms up when you cycle.
Are there a lot of hills? How are the roads?
Central Azumino is fairly flat, but you may run into a few moderate hills here and there, especially if you take Course B. Renting a bicycle with an electric-assist motor is highly recommended for casual biking. Traffic-wise, there are some roads with moderate to heavy traffic, but most of the time you can ride on smaller roads with little or no traffic. Be sure to follow traffic rules and be especially careful at intersections and crossings.
Almost all road are paved and in good condition. Some areas along walking paths along the river are dirt and gravel, but are not dangerous if you ride slowly.
I have a lot of luggage/heavy bag. Is there a place to store it while I'm cycling?
Yes, both rental shops offer free luggage storage. You can also request that your luggage is delivered to your hotel if you are staying in Azumino.
What are the basic traffic rules for biking?
In Japan, cars drive on the left side of the road and bicycles should ride on the same side as cars.
When making a right turn, you must cross the road as would a pedestrian: cross the road first going forward, then cross the road again towards the right (use crosswalks when available).
In general, ride on the road with the cars instead of the sidewalks.
When riding with others on roads with moderate traffic, be sure to ride in-line, not side-by-side.
Remember that pedestrians always have the right-of-way.
Use your front and back lights if it is getting dark.
Who should I contact in case of an emergency or problem?
If you have a problem with your bike such as a flat tire, you can call the rental shop and they will send someone to help you. For emergencies, call the police (110) or the ambulance/fire department (119). Payphones are free for emergency calls. You can also ask for help at any Koban (police box).